UPDATE: The Conan: Rise of Monsters Kickstarter campaign has been cancelled by project creators.
Pulposaurus has launched the Kickstarter campaign for Conan: Rise of Monsters. It funded in under two hours and has been unlocking stretch goals at a steady pace, amassing over $100,000 in pledges as of this writing.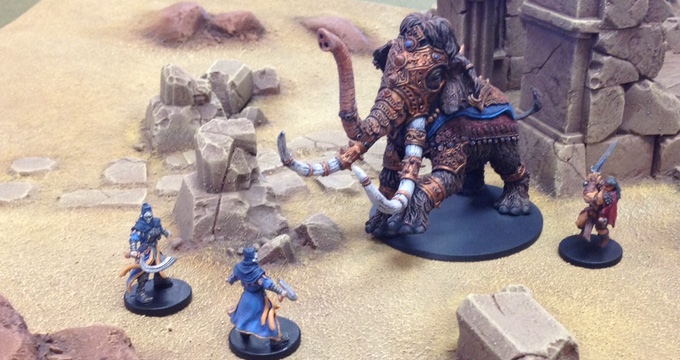 Conan: Rise of Monsters (CROM) is an epic fantasy battle game with high-quality painted, 34mm, hardened PVC figures, fast-play rules, custom dice, and more. The backstory is a brand new tale inspired by Robert E. Howard's original Conan tales and the Marvel and Dark Horse Comics stories and adaptations.
The game pits King Conan's Circle of Iron against Thoth Amon's Legion of Set. The core box comes with 30 pre-painted figures, terrain boards, dice, gems, cards and game tokens. The Warlord expansion set includes lots of new units and options to add to your game. Each set costs $150 plus shipping, an excellent deal for the size and quality of the figures. There are also unpainted terrain options, created in resin by Reaper Miniatures just for CROM, each with their own unique in-game effects.
If you're eager to check out the rules for CROM, you can download them for free from DriveThruRPG. You can read all about the campaign and make your pledge on the Conan: Rise of Monsters Kickstarter page. And, or course, when the campaign is done, you'll be able to keep track of your collection right here on MinisCollector!